Webinar Link for Revis(ualis)ing Intersectionality: The Ends of Visibility (Keynote: Thursday 17:00 CEST)
https://uni-potsdam.zoom.us/j/64387573875
Passcode: 13113752
Webinar Link for Captain Pro and the Hekim of Discostan (Artist Talk: Friday 12:00 CEST)
https://uni-potsdam.zoom.us/j/68976806593
Passcode: 80362172

Keynote:
Revis(ualis)ing Intersectionality: The Ends of Visibility
This talk problematises the relationship between visual and political representation which is closely related to the ocularcentrism of Western modernity. Western knowledge production but also emancipatory political projects have strongly relied on metaphors of seeing as recognition. In this way, visuality is immediately sutured to questions of visibility as representation. This is a too narrow translation of visual representation as political agency and, accordingly, we should not simply confuse more visibility with social recognition or prematurely equate visuality and visibility. To bring into conversation the fields of intersectionality research and visual culture, we need to be aware of the complexities of how images operate and how they might influence the tenuous relationship of categorisation and identification. The talk will refer to numerous examples from the field of visual culture and propose a more pronounced focus on affects and relationalities rather than on identity categories whilst maintaining a sustained intersectional critique of power relations and the material effects these have on individuals and groups.
The keynote for the 9th Postcolonial Narrations will be delivered by Prof. Dr. Elahe Haschemi Yekani. Prof. Haschemi is a professor in the Institut für Anglistik und Amerikanistik at Humboldt Universität Berlin. She has worked on topics like the Anglophone novel, Black Atlantic and Diasporic Writing, Gender/Masculinity Studies and Queer Theory, Popular and Visual Culture, etc. More info here.
(Photo Credit: Jennifer Sanchez)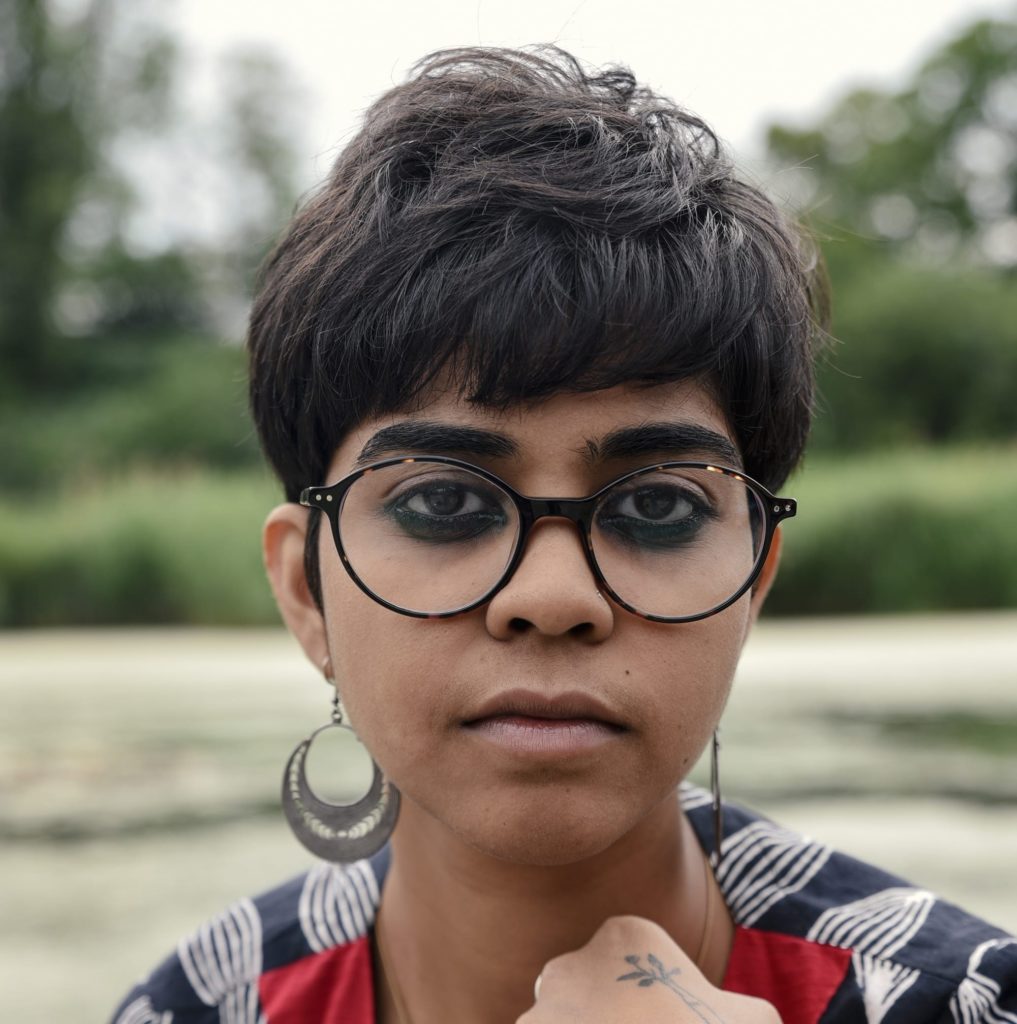 Captain Pro and the Hekim of Discostan
Sometime during the pandemic suspension of time in 2020, Promona revisited her childhood alias of Captain Pro, the captain of a deeep space exploration vehicle, renamed SS Beben to suit the current times. With a FLINTA* crew of artists, activists, poets, revolutionaries, teachers and moms, the Beben became a viable intergalactic contact zone, a mothership to hold and heal the atomization of FLINTA* life under cishet white supremacist fascist patriarchal capitalocene. In thinking through the discourse and praxis of time travel as a fundamental component of revolutionary thought, Captain Pro travelled to the shores of an ocean of panacea against Hindutva Fascism — LA-based artist Arshia Fatima Haq's ouvre named Discostan, a dance-floor centered manifestation of the "Utopic Ummah". In this talk, Capt. Pro will read snatches of a long love letter to her medicine-woman dj friend Arshia, and discuss the political stakes of radical speculative practice in fascist times.
The artist talk at the 9th Postcolonial Narrations will be delivered by Promona Sengupta is an academic, an activist and a curator currently finishing her PhD at the International Research Center: Interweaving Performance Cultures, at FU Berlin. She co-founded Mo'Halla along with Jyothidas KV and Prabhas Tripathy, a pop-up space for progressive art, culture and politics, based in Berlin. She was part of the Young Curators Academy at Maxim Gorki Theater as part of the Hebstsalon 2019.
Photo Credit: Samira Mohammed Ali